COME JOIN US IN EXTENDING OUR 2013 DIAMOND JUBILEE CELEBRATION

ENJOY 60 EXTRA DAYS FREE !
By popular demand, special offer open … until further notice.
[GST is applied to Canadian residents' fees.]
1 year=14 mos. :

2020 – 2021


[Rest of your first month PLUS 2 months]


e.g., Mar. x, 2020 to May 31, 2021
e.g., Apr. x, 2020 to June 30, 2021

$CA

2 years=26 mos. :

2020 – 2022


[Rest of your first month PLUS 2 months]


e.g., Mar. x, 2020 to May 31, 2022
e.g., Apr. x, 2020 to June 30, 2022

$CA
Listing with full access
$150
Listing with full access
$275
Exchange Cancellation Protection
$25
Exchange Cancellation Protection
$45
FREE TRIAL-MEMBERSHIPS expire after 30 days, and you can register as a FULLY PAID MEMBER during your trial period or upon its expiration.
How to start home swapping
We invite you to take the first step by joining our community. Please CLICK HERE for our online registration form. Of course, if you have questions first, please call us at 604-987-3262, 9am to 4pm (Pacific Coast time) Monday through Sunday. Or, you can Contact Us by email. Or ask us to phone you at your convenience.
Our 6 Decades of Experience will help make this your best holiday choice ever.
The information in your registration will be published online promptly, then we will contact you to confirm your membership and to explain how to access our website. You can immediately add information to your listing, post a photo album and start contacting other members with listings that that match your search.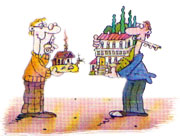 The exciting world of home exchange: much more than free accommodation!
Like to know more?
If home exchange is a new concept to you, or if you are considering joining HomeLink, no doubt you have many questions. Our Frequently Asked Question section answers the common queries of newcomers. If you would then like more information, please Contact Us.