What Exactly is Home Exchange ?
The concept is quite simple: you exchange your house with another member for a certain period of time. Since neither of you pays rent, both of you enjoy a budget friendly holiday!
Our home exchange listings are available on the Homelink International website. Every listing gives a short description of the members' home, their preferred destination/s and their offer and request. A full album of photos is included.
After looking through the listings, members start contacting potential exchange partners, normally by email or phone. A special form is available to lay out the exchange agreement. When the agreement has been made, the exchange partners get to know each other better by detailed correspondence. If possible, they arrange to meet each other in advance (e.g. at the airport).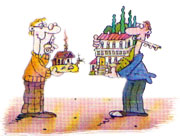 The exciting world of home exchange: much more than free accommodation!
Most people are initially attracted to home exchange by the huge savings afforded by free accommodation. It allows them to travel more frequently and widely and to experience a virtual network of hundreds of 'second' homes and new friends across their country and around the world.
But home exchange is much more than cheap travel. It provides a holiday experience that is not available through traditional travel options. Home Exchange is the authentic travel experience. With home exchange, one lives as a local amongst the community.
Exciting and different
Home exchange allows spontaneity and excitement, playing dress up with different lifestyles: a Parisian houseboat, a chalet in St. Moritz, a beach shack on the Australian coast, a warehouse apartment in New York … the only limitation is your imagination!
Comfortable and easy
Home exchange allows familiarity and ease: visiting favourite places whilst enjoying the comfort of being in a home from home.
Eco-friendly
Home exchange is responsible. By adopting home exchange as your travel choice, you are contributing to sustainable and ethical tourism.
Versatile
Home exchange can meet all your travel needs: whether it is sporting events, family get-togethers (in different parts of Japan or across the globe), skiing, wine, art, music festivals, exotic beach holidays, or round-the-world trips. Home exchange provides you with a home whenever you are away from your own!
Something for everyone
Home exchange is egalitarian, whether you live in a palatial mansion or just a modest unit. Comparing homes for exchanging is not like comparing star-rated holiday accommodation. It does not matter what the price tag an estate agent would attach to a property. A home is a home, where people live, entertain and retreat from the world. They are intimate spaces that feel loved, and are welcoming.
Connecting people and making friends
Beyond the 'jet set' lifestyle of frequent holidays to amazing homes and places, are the friendships forged and sense of connection of being part of the unique global community of HomeLink.
Like to know more?
If home exchange is a new concept to you, or if you are considering joining HomeLink, no doubt you have many questions. Our Frequently Asked Question section answers the common queries of newcomers. If you would then like more information, please Contact Us.